October 14, Friday
10:00 AM

SPANISH FILM STUDY-DAY

Organized by the American Cinematheque, the Spanish Resource Center, Education Office of the Spanish Consulate in LA, EGEDA and the Spanish and Portuguese Department, Dornsife College of Letters, Arts and Sciences USC.

Students from Los Alisos and Laguna Hills High will have the chance to enjoy the Spanish recent film, Among Wolves (Entrelobos). Before and after watching the film, they will be engaged in a series of film and Spanish-language related PEDAGOGICAL TASKS to help them make the most of the film while improving their Spanish-language skills.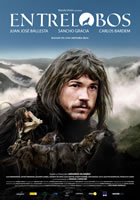 AMONG WOLVES (ENTRELOBOS)
2010
Wanda Visión, Arakao Films, Sophisticated Films
Dir. Gerardo Olivares

Based on an extraordinary true story, 7-yearold Marcos is sold by his father and taken to the Valley of Silence, to live with an elderly goatherd.
Upon the old man's death, Marcos befriends a pack of wolves and, for the 12 years that follow, becomes the "Alpha Male" of the pack.

Trailer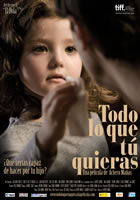 ANYTHING YOU WANT (TODO LO QUE TU QUIERAS)
2010
Bellatrix Films S.L.
101 min.
Dir. Achero Mañas
Cast: Juan Diego Botto, José Luis Gómez, Najwa Nimri, Ana Risueño, Pedro Alonso, Lucía Fernández
Recently widowed Leo (Juan Diego Botto) finds himself leading a dazed and lonely life with his 4-year-old daughter. After frequent requests from the child for a "fake mother" and Leo's date with an ex-girlfriend to a transvestite cabaret, the newly single father begins toying with - and commiting to - the idea of cross-dressing. A striking drama from filmmaker Achero Manas that subversively examines parental gender roles and issues of complex masculine identity. Official selection of the Toronto International Film Festival 2010 and the Palm Springs International Film Festival 2011.
Discussion after film with director Achero Mañas

Buy tickets

Trailer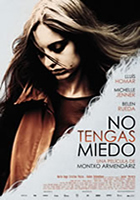 DON'T BE AFRAID (NO TENGAS MIEDO)
2011
Oria Films S.L.
90 min.
Dir. Montxo Armendariz
Cast: Michelle Jenner, Lluís Homar, Belén Rueda, Nuria Gago, Rubén Ochandiano, Cristina Plazas, Javier Pereira
An authentically disturbing sequence early in director Montxo Armendariz's haunting drama about the long-term effects of child abuse arrestingly sets the tone for a thoughtful tale following Silvia (an excellent Michelle Jenner) through life as she copes with a traumatic childhood relationship with her father. The film also features an outstanding Belen Rueda as Silvia's mother.

Buy tickets

Trailer