Program
WEDNESDAY, OCTOBER 16th - 7:00 PM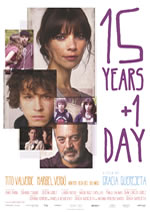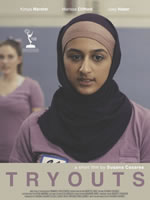 Los Angeles Premiere!
15 YEARS AND A DAY (15 AÑOS Y UN DIA), 2013, 96 min.
Dir. Gracia Querejeta.
When Jon (newcomer Aron Piper) is expelled from school, his mother (Maribel Verdu, a Goya winner for last year's BLANCANIEVES) sends him to the coast to live with his grandfather (Tito Valverde), who she hopes can instill some discipline in the troubled teen. The ex-soldier introduces Jon to a top student, but it's not enough to keep his charge away from a dangerous local gang. Partly inspired by director Gracia Querejeta's struggles with her own son, this nuanced family drama picked up Málaga Spanish Film Festival awards for Best Film and Screenplay and is the official Spanish Entry for the Academy Awards.
In Spanish with English subtitles.

TRAILER
The evening opens with introductions at 7:00PM; films begin at 7:30PM.
The 14 minute TRYOUTS (LA PRUEBA), winner of the New Filmmakers from Spain short film contest, will screen before the feature.
DISCUSSION FOLLOWING WITH ACTOR TITO VALVERDE
Evening concludes with a reception for all ticket holders.
Short Film Winner: TRYOUTS (LA PRUEBA)
2013
14 min.

THURSDAY, OCTOBER 17th - 7:30 PM. DOUBLE FEATURE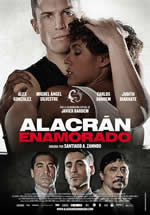 Los Angeles Premiere!
SCORPION IN LOVE (ALACRÁN ENAMORADO), 2013, 100 min.
Dir. Santiago Zannou.
Julián (Álex González) and his best friend are members of a neo-Nazi group led by the fanatical Solís (Javier Bardem). While training in a gym, Julián finds a more benevolent mentor in ex-boxer Carlomonte (Carlos Bardem), as well as a new girlfriend, Alyssa (Judith Diakhate). Under their influence, Julián tries to begin a new life - but Solis and his gang have other plans.
In Spanish with English subtitles.

TRAILER
DISCUSSION BETWEEN FILMS WITH ACTOR CARLOS BARDEM AND WITH PRODUCER ÁLVARO LONGORIA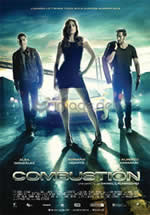 Los Angeles Premiere!
COMBUSTION (COMBUSTION), 2013, 99 min.
Dir. Daniel Calparsoro.
Just as he's gotten engaged to girlfriend Julia (María Castro), Mikel (X-MEN: FIRST CLASS actor Álex González) meets Ari (Adriana Ugarte) at a party. Ari is fascinating, beautiful, passionate ... and up to her neck in illegal car racing. But that's not the only curve she introduces; when Ari's boyfriend cooks up a plan to rob Julia's business, Mikel has to choose between an exciting new life with Ari and his love for Julia. COMBUSTION practically explodes with speed and nervous energy, while dodging the usual Hollywood blockbuster cliches, as drama and psychological tension mount with each scene. A box office hit with Spain's younger crowd.
In Spanish with English subtitles.

TRAILER
FRIDAY, OCTOBER 18th - 7:30 PM. DOUBLE FEATURE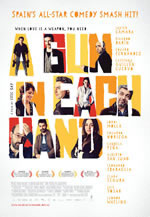 Los Angeles Premiere!
A GUN IN EACH HAND (UNA PISTOLA EN CADA MANO), 2012, 95 min.
Dir. Cesc Gay.
One of the wittiest recent Spanish comedies, this film takes a hilarious look at eight Spanish men entering their 40s and confronting various midlife crises (one husband suspects his wife is cheating on him, while another seeks reconciliation with his ex-wife). You can't help but love these good-hearted and friendly fellows as they lay their lives bare; though there are many twists in their stories, there are also amusing flashes of familiarity to their situations. The incredible cast includes Jordi Molla, Javier Camara, Eduardo Noriega and Goya Award Winner Candela Peña.
In Spanish with English subtitles.

TRAILER
DISCUSSION WITH FILMMAKER CESC GAY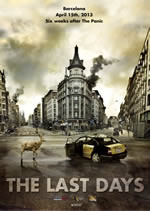 Los Angeles Premiere!
THE LAST DAYS (LOS ÚLTIMOS DÍAS), 2013, 100 min.
Dir. David Pastor, Àlex Pastor.
As in their 2009 film CARRIERS, writer-directors David and Àlex Pastor drop viewers into a desperate, plague-stricken world. Here the epidemic is a fatal form of agoraphobia, and as what's left of humanity hunkers down inside buildings, computer programmer Marc (Quim Gutiérrez) attempts to reach girlfriend Julia (Marta Etura) through the subways and tunnels of Barcelona. With award-winning Spanish star José Coronado.
In Spanish with English subtitles.

TRAILER
SATURDAY, OCTOBER 19th - 7:30 PM. DOUBLE FEATURE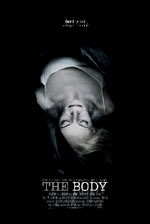 Los Angeles Premiere!
THE BODY (EL CUERPO), 2012, Outsider Pictures, 125 min.
Dir. Oriol Paulo.
A heady mix of classic noir, blood-chilling horror and high suspense, THE BODY is a thriller following a detective (José Coronado) who searches for a corpse that has gone missing from a morgue. A Goya Award nominee for Best New Director, Paolo proves to be a master storyteller with this absorbing plot, which keeps viewers guessing about both the strange circumstances surrounding the victim's death and the reasons her body has disappeared. "...the kind of breathless, relentless genre fare whose sole aim is to generate suspense, and it pretty much succeeds." - Jonathan Holland, Variety.
In Spanish with English subtitles.

TRAILER
DISCUSSION WITH ACTOR HUGO SILVA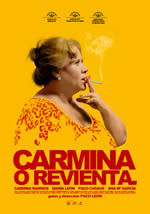 Los Angeles Premiere!
CARMINA OR BLOW UP (CARMINA O REVIENTA), 2012, 72 min.
Dir. Paco León.
Spanish television star Paco León makes his directorial debut with this multi-award-winning mockumentary about Carmina Barrios, owner of a bar in the suburbs of Seville. From behind her kitchen table, she recounts the many robberies that have plagued her, but the focus soon turns to her dysfunctional family. Like the best Almodóvar films, the tone is often dark and occasionally vulgar - but always outrageously funny. A box office sensation in Spain!
In Spanish with English subtitles.

TRAILER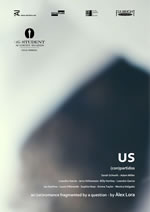 Short Film Runner Up: US (NOSOTROS)
2012
5 min.

Ticket Prices
· $11 General.
· $9 Seniors (65 & over) and students with current I.D.
· $7 for American Cinematheque Members.
Box Office Hours
At the EGYPTIAN THEATRE.
Opens 1 1/2 hours before the first program of the day/ evening.
Closes 30 minutes after the last film of the evening begins.
Buying Tickets
Tickets are on sale at the box office or on FANDANGO.COM.
No handling charge on advance /same day tickets purchased in person at the Box Office.
Only cash, Amex, Visa & Mastercard.
Parking
Paid parking ranging from $5-15 is available off Selma south of Hollywood blvd between Selma and McCadden.
Hollywood and Highland $2 for 2 hours with validation from the parking office at the complex or any business.